RAISING MONEY WITH THE SUPPORT OF BUSINESSES
Many organisations that use easyfundraising raise hundreds of pounds a year by tapping into their business links. It's so simple for businesses to support us in this way. Read on and find out how..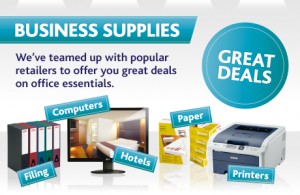 If you run a business or are involved in buying for a business, shopping through easyfundraising is a really easy way to raise a lot more for our cause.
Businesses need to make much larger purchases than the average shopper, buying computing equipment, stationery and office supplies that can often run into thousands of pounds, and purchases costing thousands can mean hundreds in donations for our cause when you use easyfundraising .
By working closely with many of the leading business suppliers, big names like Dell, Viking Direct and Euroffice we have access to some even bigger donations right now from our business customers.
And it's not just computers and stationery – we also work with hotel groups such as Laterooms and Hilton to offer donations when you book rooms for employees or for functions. Likewise airlines including Flybe and BMI, corporate hospitality retailers like Majestic Wines and big telecom companies like BT.
Visit our easyfundraising page if you're planning on buying for your business soon - you might be surprised how many of the retailers you use anyway work with us and you'll definitely like the donations you can raise.
There are plenty of other ways to raise money with easyfundraising – without leaving your office chair!
Search and raise more
One of the simplest ways for businesses to support us is by using the search engine, easysearch. When you search the web with easysearch, you raise funds. Asking businesses to use easysearch instead of Google could dramatically increase the amount of funds we raise. An average easysearcher can raise around £25 every year and as businesses make substantially more searches than individual supporters, the potential is fantastic.
Ask your company, sponsors, partners and suppliers to set our easysearch page as their company search engine and watch our funds grow.
Lunchtime shoppers
4 in 5 people shop online whilst at work, so ask your work colleagues to use easyfundraising and encourage your supporters to do the same!